Hochschule Düsseldorf / Fakultät Design / Faculty of Design
PROJEKTE:
18:18 Seriöses Meeting hat in den letzten fünf Jahren mehrere Wandlungen durchlaufen. Zum 18:18 Talk auf dem Sofa sind Filmemacher, Designer, Künstler, Medienschaffende und ehemalige Studierende eingeladen. Das 18:18 Sofa tourt auf Festivals, u.a auf der Duisburger Filmwoche und dem IFFF Dortmund / Köln. Seit 2013 besteht eine Kooperation mit den Internationalen Kurzfilmtagen Oberhausen, dem ältesten Kurzfilmfestival der Welt. Jährlich wechselnden Themenschwerpunkten und Sonderprogrammen über Medienzukunft und Entwicklungen der Filmbranche.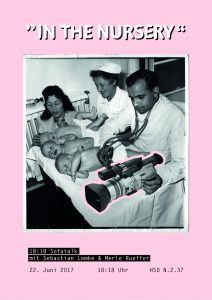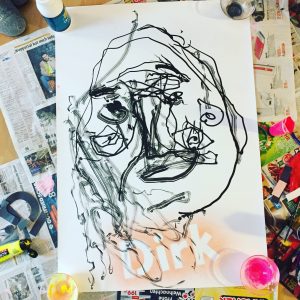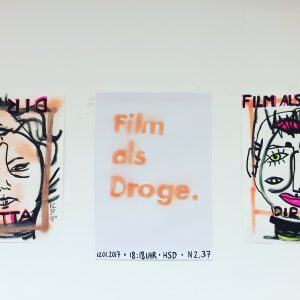 STORYTELLING:
EXRTA MUROS TARIFA 36N5W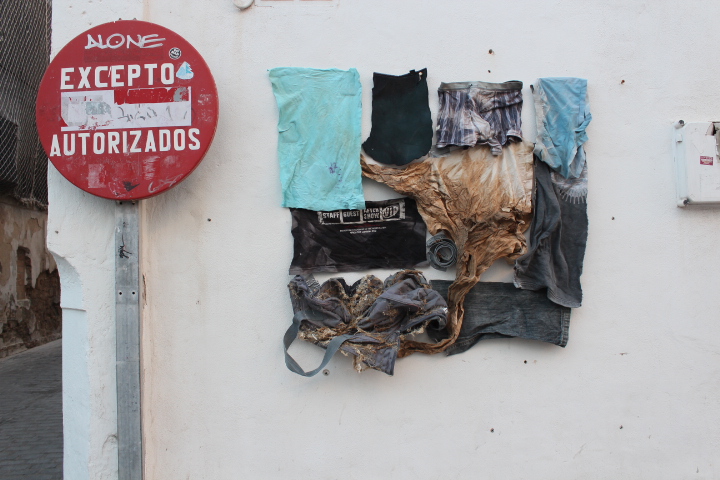 Stephanie Danne, Eleftherios Efthimiadis, Jan Krämer, Isabell Kunz, Steffen Preuß, Teresa Prosch "Wir wollen die Anwesenheit der Abwesenden demonstrieren und die Spuren der Flüchtlinge im Stadtbild sichtbar machen"
Der Film 36N5W setzt sich mit der Flüchtlingsproblematik in Tarifa auseinander. 36N5W – die Spuren der Abwesenden ist von der europäischen Jury in Brüssel bei dem europaweit ausgeschriebenen Wettbewerb "Migranten in Europa" zu den 7 Finalisten im Bereich Film ausgewählt worden. Insgesamt gab es 1500 Einreichungen und eine Beteiligung von 770 Hochschulen aus ganz Europa.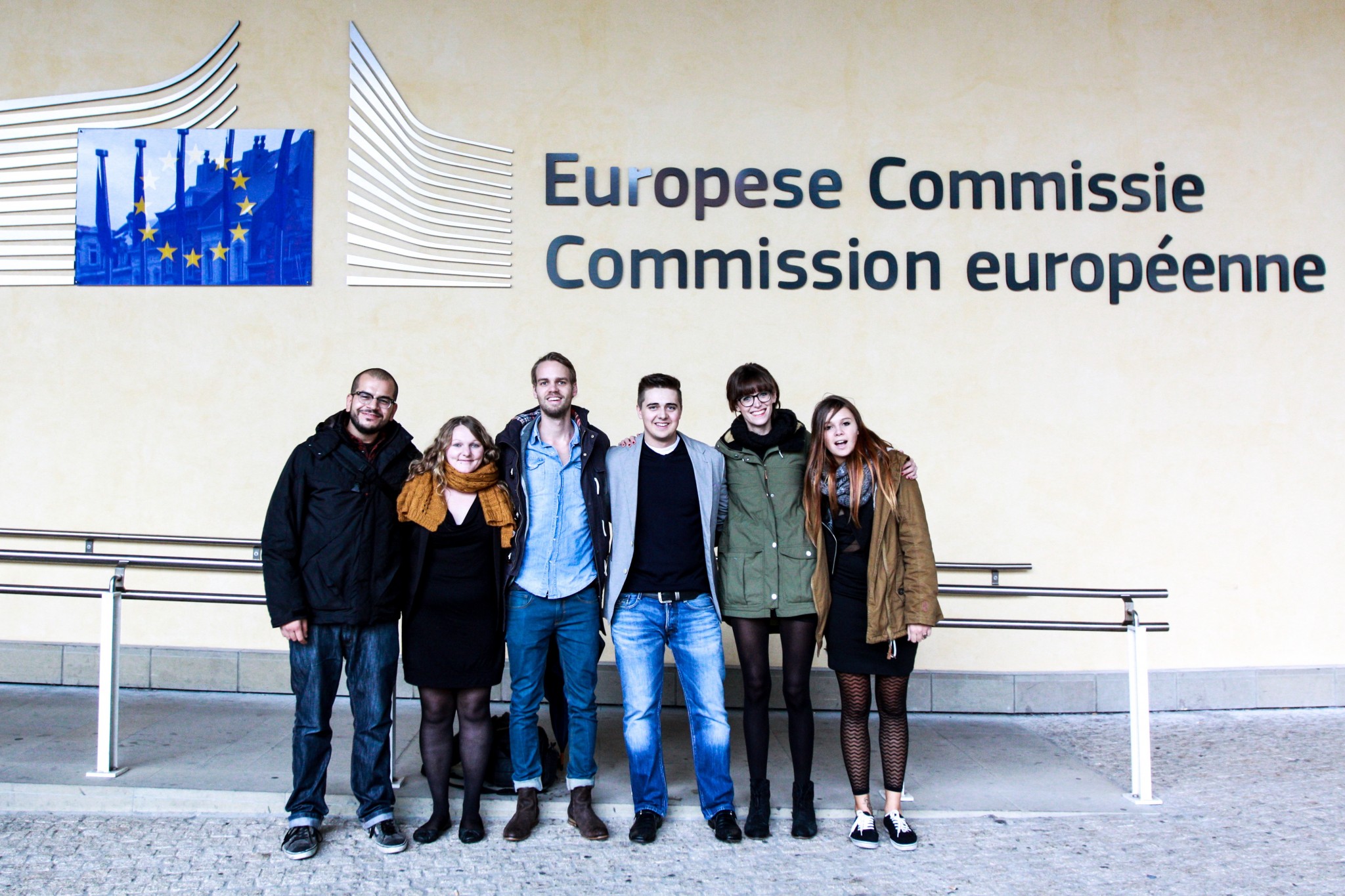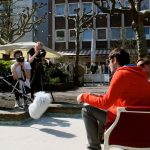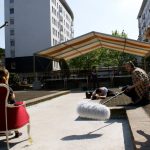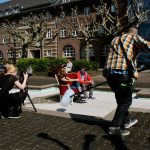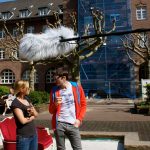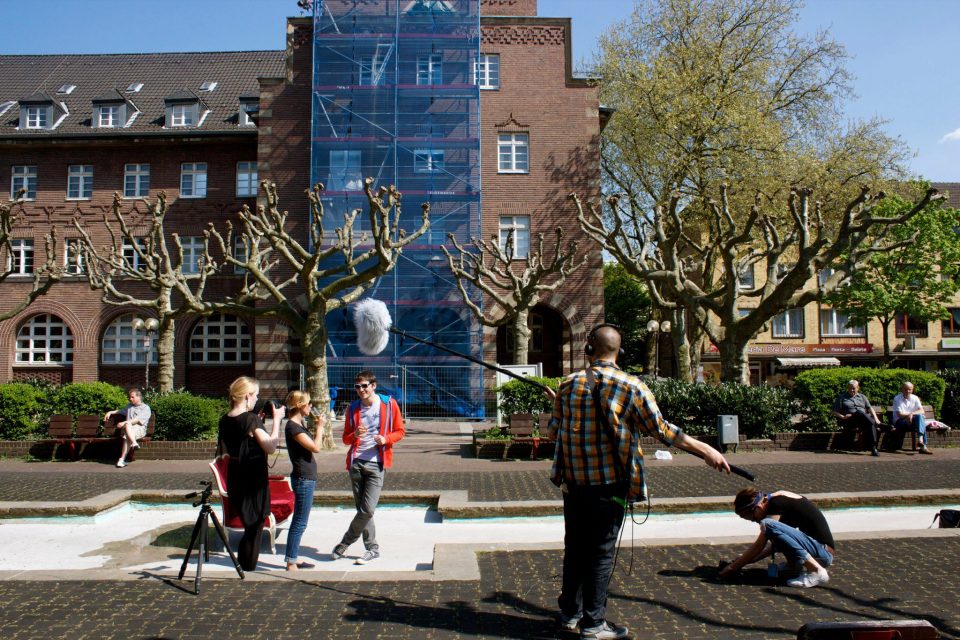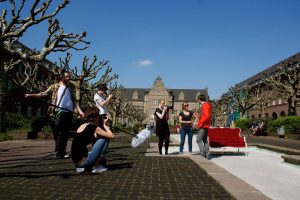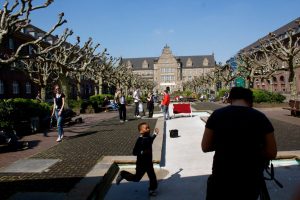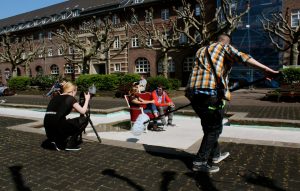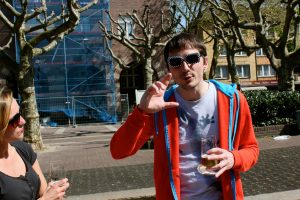 Gestern gin´s noch Herr Schürmann 24 Min Regie, Kamera, Schnitt Jan Krämer
Er geht durch die Flure und sucht nach Aufgaben. Früher hat Herr Schürmann Heine gelesen, sein liebstes Hobby war das Fotografieren. Seit zwei Monaten lebt er in einem geschlossenen Demenzheim. "Ich weiß nicht mehr welche Logik ich habe, da ist irgendetwas explodiert."
Festivals 26th BAMBERGER KURZFILMTAGE, 21st MILANO FILM FESTIVAL, SZCZECIN ERUPEAN FILM FESTIVAL, 46th ALCINE MADRID FILM FESTIVAL, 33rd VIDEO/FILM TAGE KOBLENZ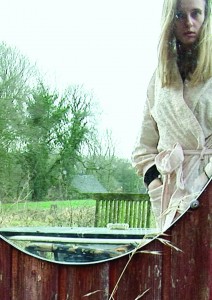 MORGEN LEBEN WIR WIEDER – TOMORROW WE WILL LIVE AGAIN
CORINNA GIESEN
PREISE // FESTIVALS # Golden Horseshoe Award Aster Filmfestival Mazedonien # Golden Medals of Belgrade Best Documentary Film 2013 60th Belgrade Festival of Documentary and Short Film # Lobende Erwähnung der Jury 28th International ShortFilmFestival Hamburg # 9th Aster Filmfestival Mazedonien # 60th Belgrade Festival of Documentary and Short Film – OFFICIAL COMPETITION [APRIL 2013] # 28th International Short Film Festival Hamburg HELDEN WIE WIR [JUNE 2012] # 14.Internationales Kurzfilmfestival Bunter Hund München [OCTOBER 2012] # CURTA CINEMA, Rio de Janeiro – OFFICIAL COMPETITION [NOVEMBER 2012] # 21.dokumentArt European Film Festival for Documentaries Neubrandenburg + Szczecin POLAND – EUROPAN COMPETITION
In this documentary, the director holds a mirror up to her life inviting us to enter her world and experience ourselves the unpredictable twists and turns that have indeed left her agonisingly entangled – forcing her story arc to shift from that of well-intentioned saviour to hopeless victim. Jurybegründung When I was a child, I always thought that I could control all the things that were happening around me. A film based on the confrontation with myself, my brother, my family and my relationship to an 24 years older alcoholic. It's about love, involvement and co-dependancy.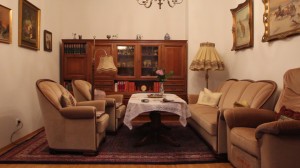 TRAUTES HEIM – MIRIAM SCHNEIDEWIND – PREISE // FESTIVALS
# 2. Platz 5. KielNET Kurzfilmnacht KIEL Oktober 2013 # Gewinnerfilm 3. OderKurz-Filmspektakels. 2013 # Auf WanderKinotour durch Deutschland Leipzig, Berlin, Fürstenwalde, Dresden und Rostock im Oktober und November 2013 # 49. Werkstatt der jungen Filmszene Wiesbaden Das Leben läuft, ist gelaufen und wir sind so ungefähr am Endziel". Im Seniorenheim "Curanum" in Düsseldorf lässt es sich leben. Aber ist dies unser Lebensabschied? In der Gemeinschaft jeder für sich allein, voll mit den Gedanken an Vergangenes. "Das Leben läuft, ist gelaufen und ich bin so ungefähr am Endziel". In der Seniorenresidenz "Curanum" in Düsseldorf lässt es sich leben. Aber ist dies unser Lebensabschied? In der Gemeinschaft jeder für sich allein, voll mit den Gedanken an Vergangenes? Welche Erwartungen stelle ich an mein Leben, wenn ich alt bin? Welchen Ängsten bin ich ausgeliefert, wenn mein körperlicher und geistiger Zustand abbaut? Welcher Ort bietet mir eine schützende Heimat? Was aber bedeutet "der Rest eines Lebens?
CHEWING GUM MAN Ana de la Válgoma Romero, 18 Min.
For a couple of months I followed Ben Wilson all over London, keeping records of his daily working routine. I got to know a very special man, an artist, a libertine. Sometimes things are not what they seem to be at first sight. When I first noticed Ben Wilson in London's suburb Muswell Hill, I thought he was homeless. But sometimes you just have to take a closer look at things.
Festivals The LONDON INTERNATIONAL DOCUMENTARY FESTIVAL,INTERNATIONAL FILM FESTIVAL VALENCIA CINEMA JOVE FILM, RIFF – ROME INDEPENDENT FILM FESTIVAL SECCION INTERNATIONAL BLOQUE , USTED NO ME LO VA A CREER, BUENOS AIRES FESTIVAL